UPCOMING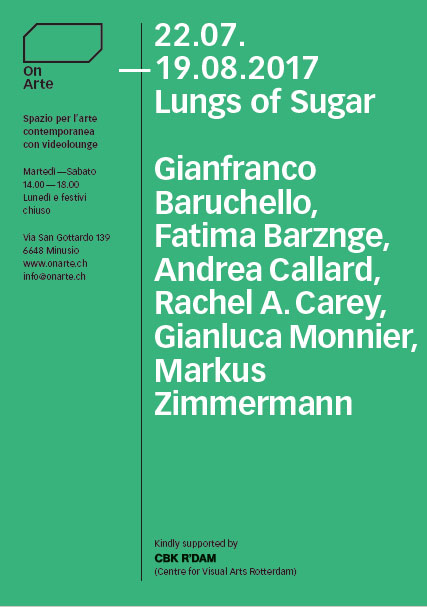 LUNGS OF SUGAR
11.07.2017 - 19.08.2017
Opening: 22.07.2017, 18:00
The contemporary art initiative OnArte invited me to curate an exhibition in their space in Locarno, Switzerland this summer. I am proud to present "Lungs of Sugar", a show on ornament and sound, featuring video, drawing and installation by Gianfranco Baruchello, Fatima Barznge, Andrea Callard, Rachel A. Carey, Gianluca Monnier and Markus Zimmermann, with a contribution by Nicole Rampazzi. Feel warmly invited!
A chant or call. Who is speaking? Harp or wire that makes sounds. Branches. Stretched out twigs yield forms and scapes. Land is veiled. Land is vain and vertical. Land is braid. Land is lost and gained. Land is brittle, bold and frayed. Active longings tendrilise.
The show "Lungs of Sugar" dedicates a stage to sound and ornament. It wishes to approach their qualities - repetition, adornment and processuality - in relation to notions of artistic production, spatio-temporal perception as well as positioning towards our surroundings.
https://de-de.facebook.com/piattaformaonarte/
RECENT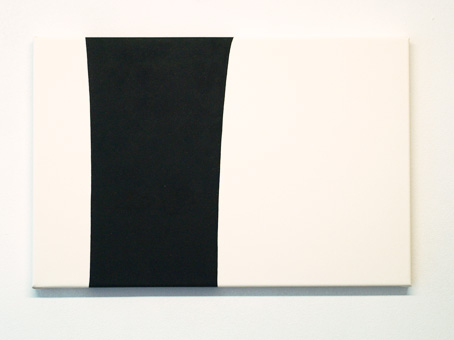 One of the four paintings of the series dimm. Two pictures below you can see its installation together with newspaper cut-outs by Dagmar Baumann, as presented during Borgerstraat Open Studios 2017.
- - -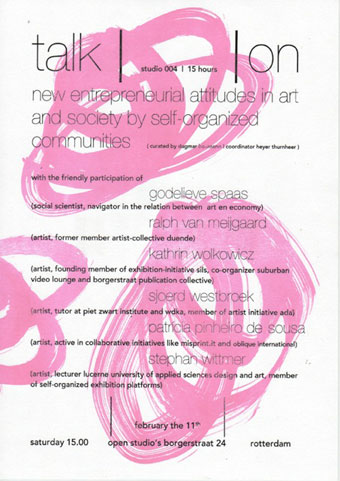 Talk On - New Entrepeneurial Attitudes in
Art and Society by self-organised communities
studio 004, Borgerstraat 24, Rotterdam
11.02.2017, 15:00
A conversation between Godelieve Spaas, Ralph van Meijgaard, Patrícia Pinheiro de Sousa, Stephan Wittmer, Sjoerd Westbroek and Kathrin Wolkowicz, moderated by Dagmar Baumann, coordination Heyer Thurnheer.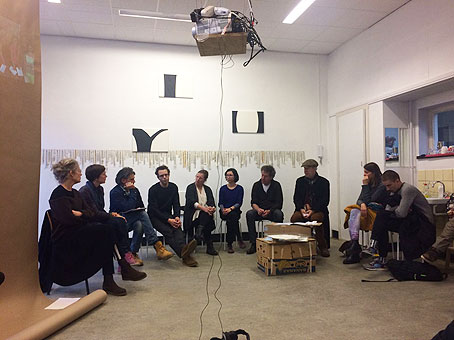 - - -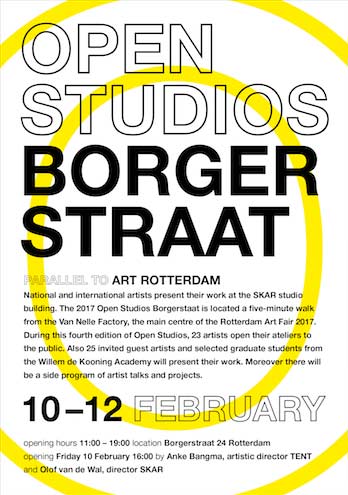 Borgerstraat Open Studios 2017
10.02.2017 - 12.02.2017, 11:00 –19:00
Opening 10.02.2017, 16:00 by Anke Bangma and Olof van de Wal
National and international artists present their work at the SKAR studio building. The 2017 Open Studios Borgerstaat 24 is located a five-minute walk from the Van Nelle Factory, the main centre of the Rotterdam Art Fair 2017.
During this fourth edition of Open Studios, 23 artists open their ateliers to the public. Also 25 invited guest artists and selected graduate students from the Willem de Kooning Academy will present their work. Moreover there will be a side program of artist talks and projects.
Publication
We will present the third edition of the well-illustrated Borgerstraat Magazine. Eleven questions are answered by various artists under the title 'What do we want to know'. This year the magazine consists of two separate booklets that form one publication-object.

Open Studios, Borgerstraat 24, 3027 EB Rotterdam, The Netherlands
www.studiosborgerstraat.nl
- - -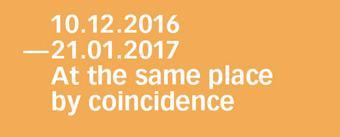 At the same place by coincidence
10.12.2016 - 21.01.2017
Opening 10.12.2016, 17:00
Introduction by Flaminio Gualdoni
reading from schoolbook by Kathrin Wolkowicz
The third landscape by Patrícia Pinheiro de Sousa
De Bernardi Laura, Togni Gianmario, Baumann Dagmar, Smits van Burgst Niels, Kun Wilma, van Meijgaard Ralph, Pars Hieke, Pinheiro de Sousa Patrícia, Rietveld Gert, Westbroek Sjoerd, Wolkowicz Kathrin, Murer Pascal e Doborjginidze Nino; curated by Heyer Thurnheer
The comprehensive installation and multimedia exhibition ´At the same place by coincidence´ goes back to acquaintances among artists wih a wide variety of practices referring to perception phenomena, philosophy and contemporary societal contexts. They met at the Locarno region during the exhibition festivals Interazioni (2004–2006) and in Rotterdam during Open Studio exhibitions (2012–2016), presented alongside Art Rotterdam and collaborative publications.
OnArte
Via San Gottardo 139, 6648 Minusio, CH – Swizerland
www.onarte.ch
- - -
Der studentische Raum
Filmprogram
12.12.2016, 19:00
My video aha zwei katzen alle beide grau will be shown as part of the filmprogram ´Der Studentische Raum´ curated by Derhoske and Jana Doell within a series of film evenings, RAUM [und ZEIT] (2).
With films by Tom Schön, Julia Loste, Walter Hettich, Volker Schreiner, Per Ole Schmidt, Katharina Timner, Nikolaus Gojowczyk, Mike Oelschläger, Thomas Bartels & Martin Hansen and Björn Melhus
HBK Braunschweig, Filmstudio, Johannes-Selenka-Platz 1,
38118 Braunschweig, Germany
http://www.hbk-bs.de/filmklasse
- - -
Season´s - artist books from the four phases of the year
CBBAG GTA / Taylor and Beatty Bookbinding Studio, Toronto, Canada
11.08.2016, 19:00
Travel Exhibition and Evening Talk about Artists´ Books
The Box of Delights Bookshop, Wolfville, Nova Scotia, Canada
17.08.2016, 19:00
Travel Exhibition, Reading and Showing
LEXICON BOOKS, Lunenburg, Nova Scotia, Canada
1.08.2016, 19:00
As part of the spring series of Travelling Exhibition, my book palm cities was presented together with the other editions of deerpress, run by Manuela Büchting.
http://deerpress.com/Travelling-Exhibition
- - -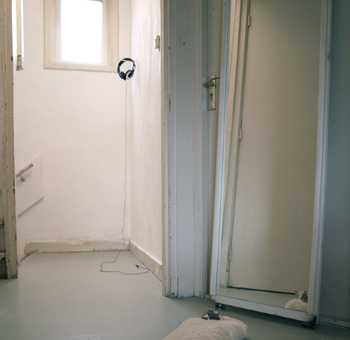 Before the begin of summer, the sound piece with straw and the slide installation as snow have been finished. The image above shows the presentation view at Peach (in the front a work by Rachel Carey) and the picture below the installation at gallery PARTners, Rotterdam.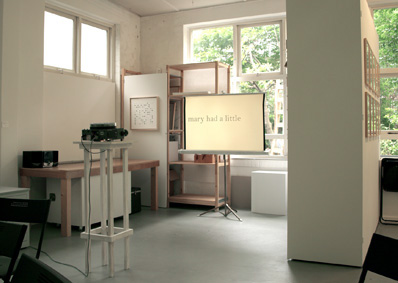 EARLIER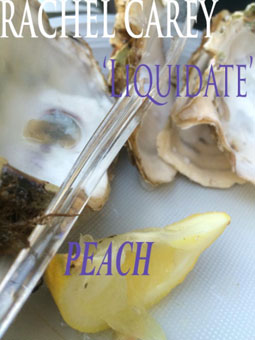 Liquidate
10.06.2016 - 10.07.2016
Opening 10.06.2016, 18:00
Rachel Carey´s show ´Liquidate´ at Peach exhibition space is on display in the framework of Charlois Speciaal, a festival and exhibition program in the south of Rotterdam. Rachel invited Karyn Carey for advice and me for a contribution to her show, and I am happy to invite you to the opening on June 10th at 18:00!
The exhibition continues until the 10th of July by appointment only. If you want to see the show, send an email to: peachopposite@gmail.com

PEACH, Grondherendijk 9B, 3082 DD Rotterdam, The Netherlands
http://www.peachopposite.com
- - -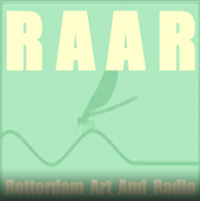 RAAR
15.06.2016, 15:00-16:00


RAAR (Rotterdam Art And Radio) is a streaming platform for artists working with audio, musicians and DJ's based in the city of Rotterdam, The Netherlands.
Artist Joshua Thies, founder of this project, invited me transmit an hour of sound for this project.
In the archive you can find the registration of this Wednesday session;
http://mixlr.com/raar/showreel/
Please follow further future sessions at mixlr coming up next month!
- - -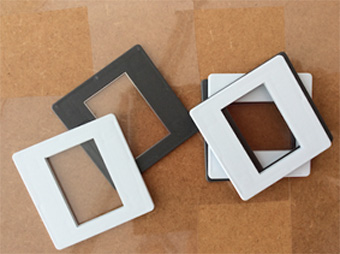 DUBBELTALENTEN
28.05.2016 - 19.06.2016
Performances: 28.05. and 29.05.2016, 14:00
Marianne Grootenboer who is part of the NE studio complex at Noordereiland invited me to participate in the group exhibition "Double Talents" which brings together works by visual artists having an affinity with texs in different realms. Feel warmly invited to the opening weekend with two afternoons of readings, performances and music as well as an exhibition:
28.05. 14:00 Bas Kwakman, Jan de Grauw, Henk de Bont, Jeanne Rombouts. 29.05. 14:00 Hans Wap, Marianne Grootenboer, Kathrin Wolkowicz, Gilbert van Drunen.
The show features works by Henk de Bont, Jan de Grauw, Marianne Grootenboer, Gilbert van Drunen, Rita Knuistingh Neven, Jeanne Rombouts, Bas Kwakman and Hans Wap.

On May 28 and 29, the show is open from 13:00-18:00. Please note: from 31.05. till 19.06. visits can be made on appointment only. Please call 0031-621224520.
PARTners galerie, Prins Hendrikstraat 5, 3071 LG Rotterdam, The Netherlands
http://www.partners-galerie.nl
- - -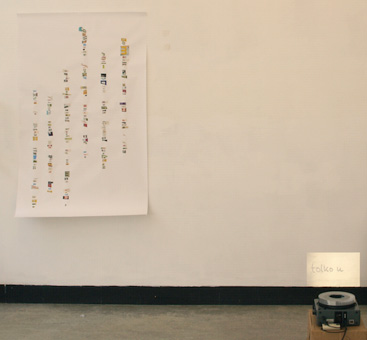 At the beginning of this year I finished three new works, ti li ti (existing as slide show and/or audio installation) and the poster sommer vor mich hin (summer to yourself). The image above shows the presentation view at the show By the artists themselves as responsible entity for the production of art, Studios Borgerstraat, Rotterdam
- - -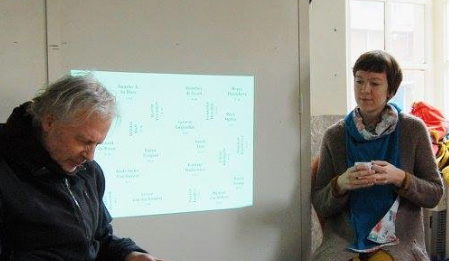 CONVERSAS
talk with audience
13.02.2016, 1 p.m.
Bérénice Staiger and Oana Clitan organize Conversas and invited me to contribute to one of their sessions together with the artist Heyer Thurnheer. On occasion of the freshly printed Borgerstraat Publication, By the artists themselves as responsible entity for the production of art, we will talk and exchange about Open Collaboration.
Open Studios, Borgerstraat 24, 3027 EB Rotterdam, The Netherlands
https://www.facebook.com/conversasrotterdam
- - -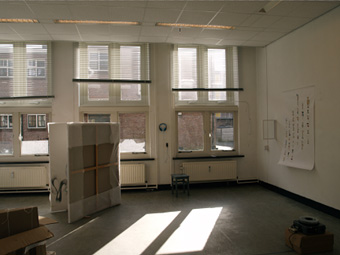 By the artists themselves as responsible entity
for the production of art
12.02.2016 - 14.02.2016, 11.00 –19.00
Opening 12.02.2016, 4 p.m.
A presentation of 41 national and international artists in the SKAR studio building at Borgerstraat 24 in Rotterdam, at a five minute walk from Art Rotterdam.
During this 3rd edition of Open Studios, 22 Borgerstraat artists, 19 guest artists of Rotterdam based art-initiatives and selected alumni of Willem the Kooning Academy will present their works. Please note the side program of artist-talks and with-audience-questions as well.

Open Studios, Borgerstraat 24, 3027 EB Rotterdam, The Netherlands
www.studiosborgerstraat.nl
- - -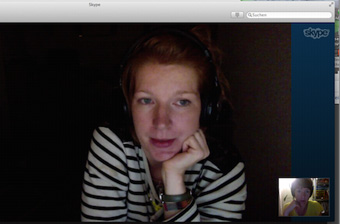 TALK
dicussion with Katja Langeland, K25
28.01.2016, 4 p.m.
Katja Langeland, friend and artist, writer, curator and mother invited me to have a Skype-Talk on the occasion of the newly launched art space K25 in Luzerne for which Katja is a member of the curatorial committee. Katja and me will exchange, amongst other things, about our activities as artists, editors, initiators and multiple taskers.
The conversation will be held in German and can be followed by visiting
K25, Kellerstraße 25, CH-6003 Luzerne, Switzerland

http://klangeland.at
https://www.k25.ch
- - -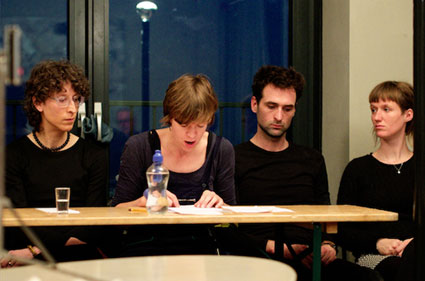 foto credit: Florian Cramer
Arf Arf & Friends
multi-voiced sound performance
01.11.2015, 16:00
Arf Arf is a Melbourn based artist collective working with experimental film, sound and poetry. Arf Arf is touring through Europe in October 2015, and Sunday afternoon, first of November, Arf Arf will perform seated around the table with guest performers from Rotterdam at Wallgallery: Mariëtte Groot / Florian Cramer, G.J. Derook, Myriam van Imschoot, Kathrin Wolkowicz, Vanita and Joe Monk, Peter Fengler and Toine Horvers.
Wallgallery, Wijnbrugstraat 330, 3011XW Rotterdam, by reservation only

http://deplayer.nl/events/arf-arf-wallgallery
http://www.wallgallery.nl
- - - _____ office
11.10.15 – 24.10.15, Wednesday to Friday 14.00-19.00, Saturday 11.00-16.00
Opening 11.10. 2015, 11:00, Finissage 24.10.2015, 11:00

´blank office´ converts an exhibition space into a temporary office with works on paper. Manuela Büchting shows her ongoing artist-book-publishing, amongst other works. Katja Langeland moves her desk into to this office to work in the presence of visitors and discuss her projects, and I contribute book-objects and other time based media.
Erfrischungsraum, Rössligasse 12, CH-6004 Luzern

http://klangeland.at
http://www.manubue.de
- - -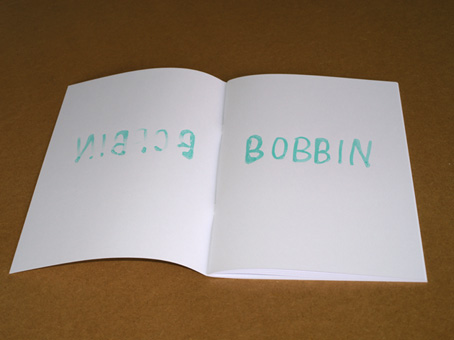 My new book bobbin is finished. Watercolour on paper, monoprint.
- - -
Golven (Waves)
multi-voiced sound performance
23.04.2015, 19:00
I participated as a performer in Toine Horver´s piece Golven. Golven is based on a hand-written observation of the waves at Inis Oírr, Ireland. Initally performed as a single person performance, Golven was be performed as a multi-voice-piece at Croxhapox, Ghent.
Lucas Munichstraat 76/82, 9000 Gent, Belgium, www.croxhapox.org

www.toinehorvers.nl
- - -
Point of View
Videoscreening
06.03.15, start 20:00 (as a loop)
Videoscreening organized by Wilma Kun on the occasion of The Machinist´s 5th anniversary. My video "amongst roses" will be presented together with works by Deirdre Donoghue FI - John Giskes NL - Christian Hansen DK - Toine Horvers NL - Robin Kolleman NL - Wilma Kun BR/IT - Gil & Moti IL/NL - Gert Rietveld NL - SpOp /Marit Shalem IL/NL & Lenno Verhoog NL - Patricia Pinheiro de Sousa PT - Karin Rianne Westendorp NL.
Filmzaal @ De Machinist, Willem Buytewechstraat 45, 3024 BK Rotterdam
http://www.demachinist.nl/agenda/lustrumfeest-de-machinist
- - -
The Flip Collection V
22.01.15 – 14.02.15, Thursday to Sunday 12.00-18.00, or by appointment
Opening 23 January 2015, 19.00 – 22.00

My new book "labor" premiers at a presentation of flip-books parallel to the 44th Rotterdam Filmfestival IFFR.
PrintRoom, Schietbaanstraat 17, 3014 ZV Rotterdam, The Netherlands
http://printroom.org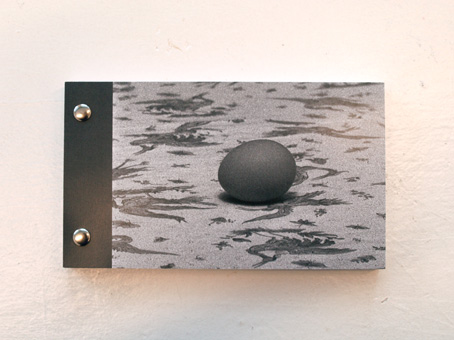 labor, 2015
- - -
At the same Place by Coincidence
06.02.2015 - 08.02.2015, 11.00 –19.00
Opening 06.02.2015, 16.00 – 21.00

A presentation of 35 national and international artists in the SKAR studio building at Borgerstraat 24 in Rotterdam.
"yourself so", a recently finished book of mine as well as other works will be presented in my shared studio 004 together with works by Dagmar Baumann and Heyer Thurnheer.
There is a also freshly printed booklet available about the artists working in the Borgerstraat studio-building.
Open Studios, Borgerstraat 24, 3027 EB Rotterdam, The Netherlands
http://borgerstraat.mapping-my-mind.org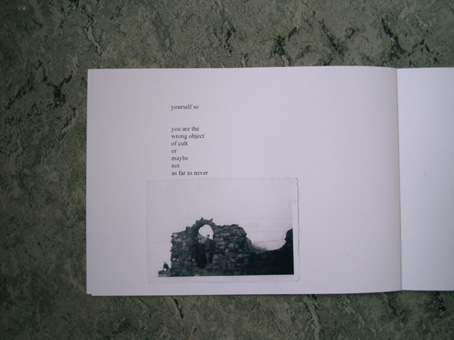 yourself so, 2014
- - -
CITY LODGE Een beeld- en geluidprogramma
Friday 23.01.2015, 8pm


A filmprogram compiled by Jos Deuss & Geerten Ten Bosch, including my video baba jaga.
Logde 222, Kuipershaven 155, 3311 AM, Dordrecht, The Netherlands

- - -
Travel Exhibition Gathering
November 16, 2014, 6pm
at Mon Ton Window Gallery, Toronto, ON, Canada
My book palm cities is presented together with the other editions of deer
press´ travelling book projects, run by the artist Manuela Büchting.
For more information please visit: deerpress.com/Travelling-Exhibition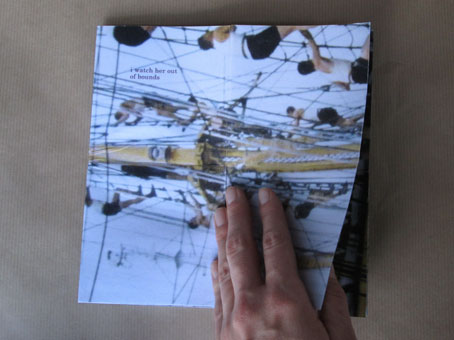 palm cities, 2014 (folded)